A Case Study
Tanjong Pagar - The Next Waterfront City

We look at the plans by Urban Redevelopment Authority, less than 10 years ago, to transform Marina Bay into a vibrant Waterfront City, and what we have and see at Marina Bay today. With the current construction of Singapore International Cruise Terminal, Marina Coastal Expressway and other strong developments around Tanjong Pagar, we look at how the Economic Strategies Committee recommendation to transform Tanjong Pagar into the next Waterfront City will be. And why Eon Shenton will be Illuminating the Tanjong Pagar Waterfront!

Singapore City Living - CBD Homes
Singapore has been ranked the 3rd most liveable city worldwide, coming in behind Geneva and Zurich in the Global Liveable Cities Index, a study which started in 2008, commissioned by the Centre for Liveable Cities (CLC), which was set up by the Ministry of National Development and the Ministry of the Environment and Water Resources. This study evaluated 64 cities based on 5 categories and cover a comprehensive 135 indicators, but still by no means complete.
Marina Bay Remarkable Transformation
11 May 2012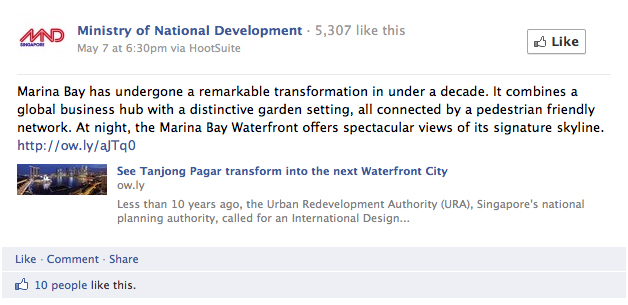 Eon Shenton rises at the coveted site of
70 Shenton Way
, illuminating the
Tanjong Pagar waterfront
with its majestic grandeur. Here in the Central Business District, each and every angle gives rise to the international recognition and promises impressive city and sea views that extends towards the waterfront bungalows of Sentosa. Interweaving both residential and commercial spaces seamlessly, it is the epitome of work, live and play. The world is truly at Eon Shenton, an address that everyone recognises.
Living in the city brightens every heart. Imagine living in a development that brightens the city. Designed with fascinating lights that attract every attention,
EON SHENTON
stands tall as the beacon of light in the area especially when night falls. Towering at a height of 32-storey, it is made up of shops,
shenton way offices
and residential units as well as 4 levels of multi-storey carparks and 2 levels of basement carparks for everyone's convenience. The facade is carefully designed with 3 outstanding sky decks offering hotel-style facilities and breathtaking unblocked views of the city skyline. It is truly a unique development that will shape the future of commerce and recreation.
Penthouses
Level 31 to 32
Residential apartments
Level 23 to 30

Sky Deck @ 22


Meeting Room, Reading Corner, Lounge,
Sky Viewing Deck and more
Level 22
Offices
Level 15 to 21

Fitness Deck @ 14


Outdoor Fitness Space, Gymnasium, Spa Pool,
Jacuzzi, Steam Room, Pool Table and more
Level 14
Offices
Level 7 to 13

Pool & Garden Deck @ 6


BBQ Area, Gardens,
Sun Deck, Lap Pool, Wet Deck and more
Level 6
Multi-storey carpark with 112 lots
Level 2 to 5
Shops
Level 1
Basement carpark with 61 lots
Basement 1 & 2